Campus Life
Because TFLTC is a specialized training college authorized by the Governer of Miyagi Prefecture under the School Education Law of Japan, TFLTC students can get passes for city buses, the subway, Japan Railway, Miyagi Kotsu, Fukishima Kotsu, Yamagata Kotsu, etc. They can also get disount fares for JR-Higashi Nippon and others.
Scholarships
●Those students who have achieved an excellent academic record and an outstanding attendance rate will be awarded a scholarship.
 ◎Scholarship to foreign students studying at their own expense(from Japan Student Services Organization)48,000 yen will be awarded per month. TFLTC will conduct the initial screening.
 ◎Semester-final scholarship(from TFLTC)50,000 yen will be awarded to each of the students who have passed the in-school screening.
 ◎Scholarship to those who passed the 1st grade of the Japanese Proficiency Test( from TFLTC)10,000 yen will be awarded to every TFLTC student who passed the 1st grade of the Japanese Proficiency Test
Part-time Jobs
If a student wishes to do a part time job, permission must be obtained at the airport upon entering Japan. The college can introduce part time work, but it should be noted that all such jobs are limited to those permitted by law and must not exceed 28 hours per week. Students who are found to be doing work prohibited by law will be expelled from the college.
Dormitory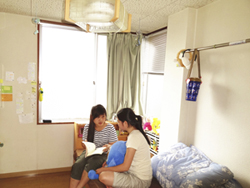 ●The college has twin share dormitory rooms available. Priority in allocation is usually given to those students who are entering TFLTC via sister colleges or agents.
●When the dormitories are full, TFLTC will refer prospective students to real estate agents. Please contact the staff in charge of the dormitory for further details.
Estimate of the Living Costs in Sendai
●Monthly rent
Dormitory (twin) 15,000 yen~(per person)
Private Apartment (single) From about 30,000 yen~
PrivateApartment (twin) From about 20,000 yen~(per person)
●Food Expenses
About 20,000 to 30,000 yen per month
●Transportation
Almost all students commute by bike or on foot.
●Utility Costs
About 8,000 to 12,000 yen (Total fees for the use of electricity, gas and water)
●Mobile Phone Charge
About 3,000 to 10,000 yen
●Internet Cost
From about 4,000 yen (optical fiber internet)
School Events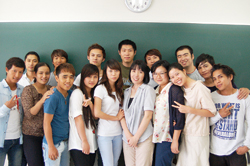 In addition to the Japanese language classes, there are alot of events that students can enjoy, such as a Bus Tour. and the Year-end Party. These events offer good opportunities for enhancing friendships among students from various countries.
April
●Entrance Ceremony for new April students
●Orientation Session for New Students
●New Semester Orientation Session
May
●Traffic Safety Seminar
●Bus Tour
August
●Summer Vacation
●Semester-final Exam
September
●Completion Ceremony
●End of Semester Vacation
October
●Entrance Ceremony for New October Students
●Orientation Session for New Students
●New Semester Orientation Session
November
●Traffic Safety Seminar
●Autumn Recreation
December
●Year-End Party
January
●Winter Vacation
February
●Semester-final Exam
●Japanese Speech Contest
March
●Completion Ceremony
●Graduation Ceremony
●Spring Vacation