Learn Advanced Japanese Language and Business Skills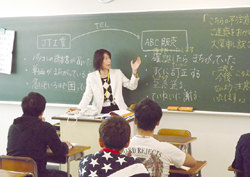 Advanced Japanese language and business skills are demanded, now when IT and globalization is progressing every day. At the International Business Department, not only will you practice your Japanese language skill, IT usage and Japan-specific business manners/basis. You will also be carefully instructed how to make use of your business skills in society.
Feature of our course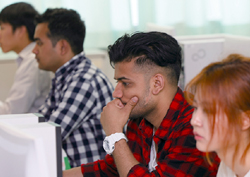 1. An early and thorough support for finding employment or entering a higher-level school!
2. A curriculum for improving your Japanese language skills!
3. A support for paying tuition fee in installments!
4. A granting of Japanese original academic degree at the time of graduation.
5. A grant of Monbukagakusho Honors Scholarship for International Students.
6. Student discount for public transportation available.
1st year studies
"Improving Japanese Language Skill and Forming a Vision of the Future"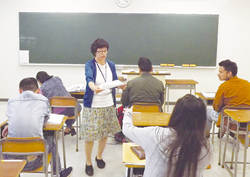 Improve Japanese language skill in proportion to the level of the individual student. Acquire knowledge necessary for job hunting through studies about career planning and Japanese expressions. In addition, acquire an overall knowledge and technique in necessary IT skills, bookkeeping and trade to accomplish business activities in the global community.
2nd year studies
"Training Practical Abilities Useful in the Business World"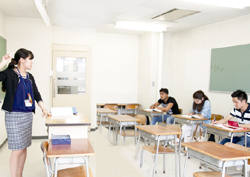 In the first year, aiming at a further improvement of Japanese language skills and learn Japanese which is necessary in the Japanese society.
Training practical abilities for a successful use of Japanese in any scene after graduation.
Furthermore, learning systematically the structure of distribution and trade/marketing, the student will become a talented person of any business scenes after having understood the social structure.
Goal for certifications
◎ JLPT
◎ J.TEST
◎ Business Japanese Proficiency Test
◎ Microsoft Office Specialist
◎ Examination in Technical Ability of Data Processing
◎ The Communication Proficiency Exam (CPE)
◎ Business Writing Skill Examination
◎ Practical Business Skill Examination