Guidance on Entering Universities, Colleges, etc..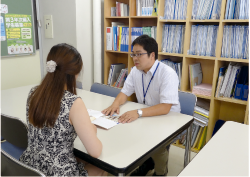 The college will provide guidance on entering specialized training colleges, universities or graduate schools. Students of TFLTC fill out surveys twice before graduation regarding their future plans, and individual guidance is given by classroom teachers. There is also an orientation session for all students held by staff in charge of guidance. College staff will give detailed advice based on the student's desires and academic performance about selecting suitable universities and other institutions, and how to apply to them.
Guidance for Exams
1.
To apply for the entrance exam to Japanese universities, you have to take the Examination for Japanese University Admission for International Students (EJU). Emphasis is given on acquiring academic Japanese. Guidance will be held on how to fill out application forms, and before the examination, a special orientation for taking EJU will be given.
2.
With a view to passing the N1 or N2 grade of the Japanese Proficiency Test(JPT), students can get individual guidance on taking the JLPT. Guidance on how to fill out the application forms and special orientation for the JLPT will be held. Students can take a trial exam two times a year. TFLTC provides career guidance based on the annual schedule so that each student will pursue and achieve his or her goals.
Courses After Graduation
●Graduate schools
national
Tohoku Univ., Iwate Univ., Miyagi Univ. of Education, Yamagata Univ., Shimane Prefectural Univ.
private
Tohoku Gakuin Univ., Tokai Univ., Meikai Univ.
●Universities
national
Hokkaido Univ., Tohoku Univ., Miyagi Univ. of Education, Miyagi Univ., Akita Univ., Iwate Univ., Yamagata Univ., Fukushima Univ., Niigata Univ., Utsunomiya Univ., Tsukuba Univ., Saitama Univ., Htotsubashi Univ.,Yokohama National Univ., Shinshu Univ., Kyoto Univ.
private
Sapporo Univ., Tohoku Gakuin Univ., Tohoku Institute of Technology Univ., Shokei Gakuin Univ., Meikai Univ., Kanagawa Univ., Nihon Univ., Aoyama Gakuin Univ., Kokushikan Univ., Japan Univ. of Welfare, Chubu Univ., Musashi Univ. of Technology, Yamanashi Gakuin Univ., Ritsumeikan Asia-Pacific Univ., Osaka Univ. of Industry, Keiai Univ., Ritsumeikan Univ. Rissho Univ.
●Junior colleges
private
Seiwa Gakuen Junior College, Tohoku Bunkyo Univ., Aich University (Junior College Department), Nagoya Junior College of Commerce
●Specialized training colleges
private
Tohoku Foreign Language & Tourism College, Tohoku Electronics College, Digital Arts Sendai, etc.
Schedule
April
●Guidance on Japanese Universities, Colleges, etc.
●Start of Counseling
●Guidance on Application for the 1st Japanese Proficiency Tes(t JPT)(Nihongo Noryoku Shiken)
May
●Final Guidance on the 1st Examination for Japanese University Admission for International Students(EJU)(Nihon Ryugaku Shiken)
June
●1st Survey of Students Future Career Plans
●1st EJU
●Guidance on the 1st JLPT
July
●1st JLPT
●Guidance on Application for 2nd EJU
August
●Counseling on Entering Universities, Colleges, etc
September
●Guidance on Application for the 2nd JLPT
●Start of Application Period for Private Universities
October
●2nd Survey of Students Future Career Plans
●Guidance on Entrance Exams for Universities, Colleges or Specialized Training Collelges
●Final Guidance on 2nd EJU
November
●Final Guidance for taking JLPT
●2nd ESJ
●Guidance on Entering Universities, Colleges, etc. through recommendation by TFLTC
December
●2nd JLPT
January
●Start of Application Period for Public Universities
February
●Guidance for Application for Universities, College, etc.
●Guidance on 1st EJU
March
●Final Survey about Future Career Plans